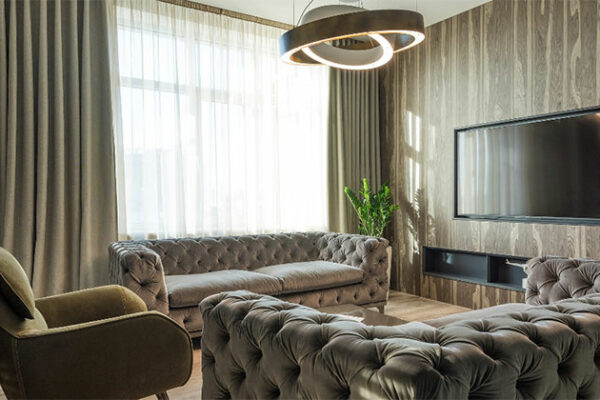 One of the simplest solutions to keeping noise at bay is to use sound dampening curtains. Steven Woods from Yorkshire Fabric Shop explains how they work.
There's a sense of serenity when you come home after a busy day at work and enjoy a quiet, relaxing night. But we are often disturbed by sounds of passing vehicles, music blaring from another house, or kids playing loudly in nearby yards. Fortunately, the use of sound dampening curtains can help you to achieve this tranquillity.
How much sound do they block out?
Sound dampening curtains are not absolute sound isolators, but they do decrease the amount of sound coming into your home.
If you live in an area where cars frequently pass by, where dogs bark or other noises impede your quiet, the use of sound dampening curtains can make your life a lot more comfortable, especially if those noises are keeping you awake at night.
Sound dampening curtains are also great idea for people who work from home, lessening any sounds that may interrupt their concentration and jeopardise their ability to work properly.
Types of sound dampening curtains
Sound dampening curtains do not look that different to ordinary curtains; the difference is that they use a certain type of fabric, as well as layers. Thick, heavy materials create a soundproof barrier for each layer, and there are many layers to ensure optimum absorption.
The fabrics vary from one maker to another, but manufacturers typically use velvet, polyester and satin. These materials are very thick, and they come in a range of textures and colours to match any space or style, making them no less stylish than traditional curtains. As thick fabrics are used, we suggest you choose upholstery fabrics, such as velvet.
If you are planning to create your own curtains for sound dampening, then you could also try looking for velvet upholstery fabric online. There are a variety of fabrics on the market that may be daunting, but we hope you can choose the right one.
Here are some sound dampening curtains that you can use in your house.
Nicetown Thermal Insulated Blackout Curtains
This thermal insulated blackout curtain is an acoustic curtain that you wouldn't be ashamed to show to other people. It has a polyester triple-weave pattern and a two-layer fabric. The design does a good job of trapping and considerably damping airborne sound.
The thermal backing also helps to manage room temperature by keeping the cold air outside in winter and keeping the cool, air conditioned atmosphere inside during summer.
The curtains are machine-washable. Just be mindful that they are very heavy, some weighing 10 pounds (4.5kg) or more.
RYB Home Portable Room Divider Curtain
The RYB Home curtain is built to act as a room divider. However, there is nothing to say you can't use it as a soundproof curtain. It can dampen sound somewhat when used as a divider, but the noise will still reach the protected area from the space above and below the curtain.
There are 14 different colours/patterns available, as with the Nicetown curtains. The darker colours, such as black and brown, will block out almost 100% of the ambient light coming from outside when the RYB curtain is used as a window treatment.
H. Versailtex Premium Blackout Curtains
This type of curtain is famous for its triple-weave construction of polyester microfibre and thermal insulation backing. Not only does it secure people inside from cold and UV rays, you can also admire this curtain's elegant look and feel.
The folds add another aspect to their sound damping properties as large pleated curtains, and they can absorb most airborne outside noise and dampen reflected indoor sound nicely.
Yakamok Blackout Window Curtain Panels
The Nicetown and RYB curtains have almost the same noise-absorbing and damping effect as these Yakamok panels. They are made with two layers of identical triple-weave blackout fabric; the backing is not thermal, but it will still block the entry of most UV rays into the room.
In addition to that, the darker colours often provide almost a 100% blackout of all light and visible protection from the cold winds of winter. This type of curtain is also machine washable.
Utopia Bedding Blackout Curtains
Blackout curtains are ideal for decreasing the noise coming in or getting out from windows and doors. Use them in a bedroom, home theatre, kindergarten, or anywhere you need a little peace.
If you wish to dampen sound and minimise echo, a traditional acoustic curtain uses quality, heavyweight, plush fabrics paired with soundproofing materials such as mass-loaded vinyl. Although these curtains are typically special-order pieces, buying quality, heavyweight blackout curtains are the best choice for the home.
WONTEX Blackout Curtains Thermal Insulated with Grommet Curtains
These curtains are made of a special material to hold the noise away from the room. For those who are looking for a peaceful, less disruptive sleep, this is a great choice. WONTEX drapes are strong enough to block light and sound so that you can get a night of complete and calm sleep.
The solid polyester is coated with thermal insulation.
Takeaways
When evaluating curtains for your home, determine what features you need most, as each feature has additional costs built into it. There are many sound dampening curtains on the market, and most are efficient at blocking sound. Be sure to look for the one that will answer all your needs and wants in a curtain.
The thicker the curtain the more sound it will absorb and dampen.
If appropriate, use ceiling brackets to hang curtain rods, bringing your curtains closer to the ceiling to block out more sound.