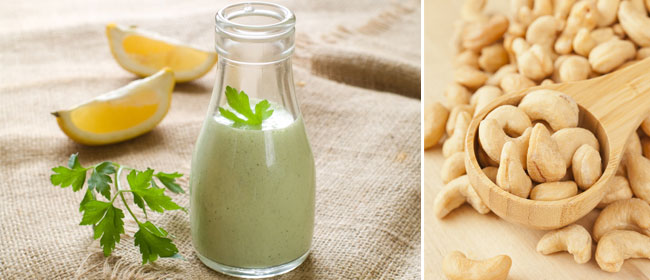 Raw food chef Fi Jamieson-Folland creates a delicious, healthy dressing for homemade salads. Sleep diet approved!
Most people would prefer a healthy option if possible – the tastier the better! And there's certainly no shortage of tasty treats around, although they're not always healthy.
Blend this mix for a great source of nutrients, including phosphorus, magnesium, antioxidants and manganese, plus the right kinds of fats and low glycaemic index.
Lemon Cashew Drizzle
This is perfect over most salads, especially those with spinach, rocket, young thinly sliced silverbeet or even cabbage. A high-speed blender is important. Makes ½ cup of dressing
Ingredients
½ cup raw cashews (pre-soaked for 3 hours, rinsed and drained)
1 tablespoon miso paste
¼ cup parsley
Juice of a lemon
Pinch freshly ground salt
½ teaspoon agave/honey, according to taste
Method
Place all the ingredients in your high-speed blender and blend until smooth. Adjust to your taste using the agave/honey and salt.
Drizzle over your salad, and garnish with parsley tops or pre-soaked sesame seeds.
Store any leftovers in a BPA-free, airtight container in the fridge for a few days.
Top tips for your perfect drizzle
Experiment with different garnishes – coconut bacon is a fun option!
Include organic and go with the raw options where you can – they often have more nutrients.
Search out your raw cashews in health food stores or pick-and-mix selections. Always purchase from a store where there's a high turnover to make sure they're fresh. You want even-coloured nuts that smell sweet, rather than those that have a bitter smell (this can indicate they're rancid.)
Make sure you store your cashews (all nuts, seeds, dried fruits) in a BPA-free or glass jar in the freezer for up to six months.
It makes sense to pre-soak your nuts and seeds before using to remove the factors that stop the enzymes in them from working properly, and this also helps make them more digestible.