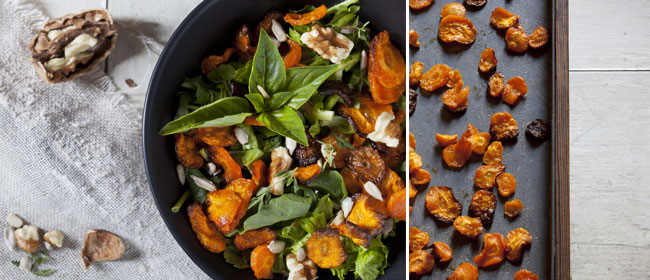 Sweet and spicy carrot chips give this healthy, anti-inflammatory salad a flavoursome crunch. Sleep diet approved!
When making carrot chips, you can use any spice or herb you like. Turmeric provides a mildly spiced, sweetish taste, while curry powder gives more of a bite. Both spices are anti-inflammatory.
Turmeric is best consumed with a meal that contains (good) fats or oils to aid its absorption. Black pepper helps too, but it's important to note that the pepper does not aid absorption. Rather, it contains a compound (piperine) that inhibits the breakdown of turmeric compounds in the gut and the liver so that more is available for absorption. You need the fats or oils for absorption.
Carrot Chips
Ingredients
3 large carrots
1 ½ teaspoons olive oil
¼ teaspoon salt
¼ teaspoon turmeric
1 ½ tablespoons fresh, finely chopped thyme
1 ½ tablespoons fresh, finely chopped sage
Method
Preheat oven to 210 degrees C (410 degrees F).
Cut carrots into thin rounds (about 3mm, 1/8th inch thick) and toss with olive oil.
Sprinkle with salt, turmeric and herbs.
Spread carrot chips on a lined baking tray and bake in oven for 20-25 minutes. Flip halfway through.
Walnut & Rocket Salad with Turmeric Carrot Chips
Ingredients
Rocket leaves
Walnut pieces
Sunflower seeds
Carrot chips
Lemon Cashew Drizzle or (2 teaspoons balsamic vinegar or your favourite vinaigrette)
A few basil leaves
Shaved parmesan (optional)
Method
Toss first four ingredients together. Mix in a couple of teaspoons of lemon cashew drizzle (or balsamic vinegar) then serve with basil leaves and parmesan.